Welcome to the new TecAlliance Online Shop.
Everything looks different here! We have optimized our online store to bring you even faster to our products!
TecDoc Catalogue.
Maximum precision
& accuracy.
With over 1,000 brands, the global TecDoc catalogue offers you a diverse, multi-brand portfolio of IAM products. It has everything you need to know about automotive parts. It's easy to use, so you can find the right part quickly and easily.
450,000,000 +
Vehicle Linkages
190,000 +
TecDoc Vehicle Types
Best-in-class data is guaranteed by the world's leading spare parts catalogue. TecDoc is your key to success in the automotive aftermarket.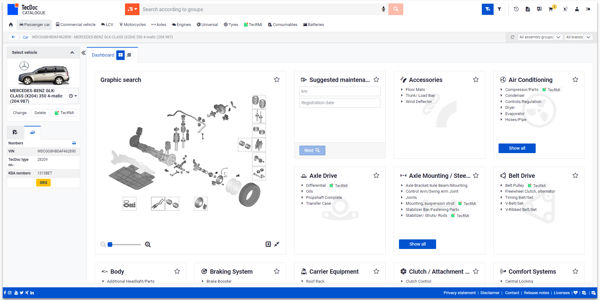 Fast & correct vehicle and spare parts identification, including comprehensive & manufacturer-compliant repair and maintenance information, high-quality images and product videos.
Why choose TecDoc?
Globally recognized quality standard in the IAM
Multiple search options (Smart Search, VIN filter, Graphic Search)
Latest technologies, such as fast and globally available cloud connectivity
Highly customizable by adding modules such as TecRMI or VIO data
Available in 40+ languages
The "TecDoc Catalogue Classic" package is an excellent starting point for anyone looking to use TecDoc as their spare parts catalogue. Try it now and experience the power of TecDoc!
How to become a customer
Registration
Please verify your email address by entering the verification code that we´ll send you to your provided email address. Then fill in the required fields for personal and organizational data.
Confirmation
We will verify your provided data and send you an email confirmation within 24 hours. After setting your personal password you´ll have full access to the shop and its functionalities.
Buy
Get started! As a registered customer, you can access the full range of products for your country. Manage your purchases, subscriptions, and licenses in one place.
Sign up now to see product prices!
Why TecAlliance?
We are your partner for all things aftermarket data. We are the trusted digitization partner for the international automotive aftermarket with more than 25 years of experience.
We offer data & solutions for the entire value chain. With more than 900 employees worldwide, we are confident that we can also support you in digitizing your business.